80 SHARES Share on Facebook Tweet Follow us Save Share Share Share What is the best gaming monitor for World of Warcraft? A great gaming monitor will give you an epic experience. World of Warcraft
What is the best gaming monitor for World of Warcraft? A great gaming monitor will give you an epic experience. World of Warcraft has stunning visuals. You'll want to consider whether graphics or performance matter to you. Gaming monitors are essential for your setup. A gaming monitor can come in one of three different panel types. These include IPS, TN, and VA. Each type has its strengths and weaknesses. So your needs will determine which one you choose.
Feel free to check out the best gaming PCs for World of Warcraft and the best gaming speakers for WoW create your perfect gaming setup. If you'd like to game on the go then check out the best gaming laptop for WoW.
This post will have suggestions on which gaming monitor is right for you. So you can expect to see a clear and simple explanation for what a good gaming monitor needs. You'll want to consider the refresh rate, resolution, size, and response time. Some monitors also come in curved varieties. A curved monitor can increase levels of depth in your games. So the monitor feels better to your eyes. Let's take a closer look at the three different types of monitors.
Affiliate Disclosure:
Since I share awesome products with people like you, naturally my content may contain affiliate links for products I use and love. If you take action (i.e. subscribe, make a purchase) after clicking one of these links, I'll earn some coffee money (or game time *gasp*).
As an Amazon Associate, I earn from qualifying purchases. For more information, please refer to Paid for Advertising.com which explains affiliate marketing in more detail.
Best Gaming Monitor For World Of Warcraft
What's The Difference Between IPS, TN, And VA?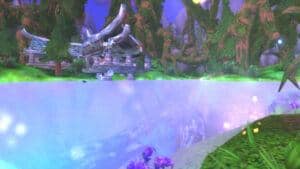 Gaming monitors can come in three different varieties. These varieties include IPS, TN, and VA. Each type of monitor has it's own strengths and weaknesses. In order to choose the best gaming monitor, you must know the difference.
What Is A TN Panel?
A TN (Twisted Nematic) panel uses an LCD display technology. It's one of the most popular panels for gamers. The TN panels are affordable and fast. Unlike IPS and VA panels, the TN panel doesn't offer the best viewing angles. A TN panel offers the fastest response time of only 1ms.  Trailing and motion blur of objects isn't an issue for TN panels because of the fast speed. This is why competitive gamers choose TN panels so often. They have lower power consumption. TN panels help to combat flicker. A TN panel has a low input lag, and the worst viewing angles and color.
What Is An IPS Panel?
An IPS (In-plane Switching) panel is good for image editing, video editing, and content creation. These panels are known for their color performance and wide viewing angles. IPS panels offer sharp images and vibrant colors. They also offer a higher contrast ratio and color accuracy than TN panels. The IPS panels have better response times than VA panels, and more motion blur than TN panels, and as a result, will cause streaking on certain images. IPS panels have an issue called IPS glow. The glow is when excess light passes through the panel and causes glowing around the corners of the screen.
What Is A VA Panel?
VA (Vertical Alignment) panels are in the middle and have the best features from both IPS and TN panels. They offer the best contrast ratio which allows them to produce deep blacks. This allows for more vivid details especially in the shadows of images. Usually, VA panels aren't the best choice for gaming. They're known to have the worst response times. VA panels might not work for gaming because fast images will have a blur. Most competitive gamers skip VA panels because of the risk of ghosting, but if you're a casual gamer then you might enjoy having richer blacks and brighter colors on screen.
Cybersecurity is crucial especially when playing your favorite games like World of Warcraft. Check out Pure VPN and their top of the line security services. Feel free to learn more by reading Will Using A VPN For WoW Get You Banned?
Best Gaming Monitor For World Of Warcraft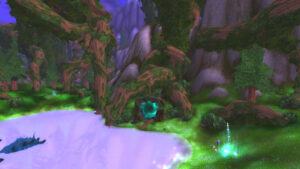 This section will list gaming monitors and their unique features. Each monitor may be a different type and offer a unique price point. A good monitor should be future proof and not require you to get another one within a year. Technology is always advancing especially in the gaming industry and you should be prepared. You'll want to factor in your budget when choosing a monitor.
1.
Alienware NEW Curved 34 Inch WQHD 3440 X 1440 120Hz, NVIDIA G-SYNC, IPS LED Edgelight, Monitor – Lunar Light, AW3420DW
IPS Panel (Curved)
120Hz refresh rate
NVIDIA G-SYNC
G-SYNC technology synchronizes the GPU and monitor which minimizes graphic distortions like tearing and artifacts from forming on the screen
LED Display
A 1900R curved, wide 21:9 display
WQHD (3440×1440) Resolution
Check Latest Prices On

Amazon.com

Check Latest Prices On Walmart.com
One of the best gaming monitors for World of Warcraft is the Alienware curved 34 inch by Dell. This monitor is ultrawide and comes in an awesome package. Dell spent a lot of effort making sure this monitor was being presented properly, and it's worth it. The Alienware curved 34 inch has the best of both worlds because it features phenomenal colors and deep blacks, and unlike most IPS panels, it has lightning-fast speeds. A curved screen places you right in the middle of the action with no blurring or other negative effects. The curvature of the screen fully encompasses your peripheral vision and completely immerses you within your favorite games. The G-SYNC chip creates a smoother gameplay experience.
2. Nixeus EDG 34″ Ultrawide 3440×1440 AMD Radeon FreeSync Certifed 144Hz 1500R Curved Gaming Monitor With Tilt Only Stand
VA Panel (Curved)
34″ Ultrawide monitor
144Hz Refresh Rate with AMD Radeon FreeSync certified range and is compatible with Nvidia G-Sync
Two display

Inputs: 1. 4 inputs (up to 144Hz) and two x HDMI 2. 0 inputs (up to 100Hz)

Response time is

1ms (PTR) and 4ms (G2G)

Brightness: Up to 400 cd/m2 and 350 cd/m2 (Typical), Native Contrast Ratio: 3000: 1, Viewing Angles: 178° horizontal / 178° vertical

2 x DisplayPort 1.4 inputs (Up to 144Hz)

2 x HDMI 2.0 inputs (Up to 100Hz)

3.5mm Audio Output: For external headphones or external speakers.

Check Latest Prices On Amazon.com
Check Latest Prices On

Walmart.com
The Nixeus EDG is an ultrawide gaming monitor which uses AMD Radeon FreeSync. FreeSync technology will ensure that your games don't experience any tearing or streaking.  A 144Hz allows twice as many video frames than a 60Hz monitor so your games will be smoother and more responsive, and will give you an edge over other gamers during competitive gameplay.
The premium-grade display panel gives you the flexibility to be both a content creator and a gamer. You're able to do video editing, content creation, and high-resolution gaming with jawdropping graphics details. It features a 10-bit panel with a high dynamic range (HDR) support. The 1500R curve offers a greater field of view. You'll have more desktop space. A curved screen offers you a more immersive display than a 16:9 widescreen display. The Nixeus EDG 34 comes with a base tilt stand but the stand can be removed to install a custom VESA stand mount.
3.
Dell S-Series 27-Inch Screen LED-Lit Gaming Monitor (S2719DGF)
TN Panel (Not Curved)
27 Inches Wide Monitor
FreeSync (AMD Adaptive Sync)
2 HDMI ports
155Hz Refresh Rate
Maximum Resolution 2560 x 1440
LED Display
Aspect Ratio 16:9
Check Latest Prices On Amazon.com
Check Latest Prices On

BestBuy.com
Next up in the search for the best gaming monitor for World of Warcraft is the Dell S-Series 27-inch screen. The gaming monitor is a TN panel and has FreeSync. With FreeSync you can enjoy tear-free graphics and smooth visuals. The monitor features a quick refresh rate at 155Hz (overclocked). The Dell S-Series 27 has bright colors allowing you to play in a brightly sunlit room, or at night time in dim lighting. Two 3.0 USB ports are conveniently placed on the bottom left for you to charge devices. The clean and sophisticated display has thin bezels. So the monitor should look great with your gaming setup. The Dell S-Series 27-inch has outstanding quality. It's a TN panel but the graphics are close to an IPS. So the standard of quality is high.
4.
LG 27GL650F-B 27 Inch Full HD Ultragear G-Sync Compatible Gaming Monitor with 144Hz Refresh Rate and HDR 10 – Black
IPS Panel (Not Curved)

G sync compatible

2 HDMI Ports
27 inches Full HD (1920 x 1080)


144 Hz refresh rate

1ms motion blur reduction

Full HD 1920 x 1080 resolution

Height/ pivot/ tilt adjustable stand

Radeon free Sync technology

HDR10 compatible. Dimensions Without Stand (WxHxD)-24.2 x 14.4 x 1.8 inches

Check Latest Prices On Amazon.com
Check Latest Prices On

BestBuy.com
The LG 27GL650F-B is an IPS monitor, so you can expect vibrant colors, deep blacks, and outstanding viewing performance. It supports high dynamic range (HDR) and G Sync. The excellent viewing angles will create a stellar gaming experience. Ghosting won't be a problem with this monitor as the refresh rate is fast at 144Hz. The monitor features a thin bevel design and a V-shaped stand. Any gaming setup would look fantastic with this monitor. This monitor may be an IPS but it's response times can't be beaten, and it's easy to use controls make for an easy gaming experience. As an IPS panel, you can also use this monitor for photography and content creation. The flexibility and great quality the LG 27GL650F-B provides has no comparison. As a gaming monitor, it provides everything you need, and much more in a solid product.
5.
Asus ROG Swift PG349Q 34" Curved G-Sync Gaming Monitor 120Hz 3440 X 1440 IPS with Eye Care Aura Sync DP HDMI
IPS Panel (Curved)
LED Display
2 USB Ports
NVIDIA G-SYNC technology features a G-SYNC processor for smooth gameplay and eliminates screen tearing and stuttering
34 inch UWQHD (3440×1440)
Refresh Rate 120Hz which embraces ROG standards and design

RGB Lighting with a wide spectrum of colors and the ability to synchronize effects

Asus Eye Care technology with TUV Rhineland certified flicker-free technology and blue light filter minimizes eye fatigue

Check Latest Prices On Amazon.com
Check Latest Prices On

Target.com
The Asus ROG Swift is one of the best gaming monitors for World of Warcraft. The IPS monitor is curved and features NVIDIA G-SYNC technology. This allows your gameplay experience to be smooth. Tearing and stuttering shouldn't be a problem with this monitor. The 34-inch monitor is ultra-wide, and the curvature allows for true panoramic gaming. Slim bezels and a great stand allow for fantastic movement. The QHD panel has a pixel density of 109 pixels per inch (PPI) which allows for greater detail when playing games or watching movies. The Aura sync lighting provides ambient lighting that can be synchronized with other Aura-Sync-enabled components. The Aura Sync software can be installed on your desktop and you can enjoy an epic gaming setup by having lights beat to your favorite music and sound effects.
6.
Acer SB270 Bbix 27″ Full HD (1920 x 1080) IPS Ultra-Thin Zero Frame Monitor with AMD Radeon FREESYNC Technology – 1ms | 75Hz Refresh (HDMI & VGA ports)
IPS Panel (Not Curved)

27 inches Full HD (1920 x 1080) Widescreen with AMD Radeon FreeSync Technology

Response Time: 1ms VRB

Refresh Rate: 75Hz

Ports: 1 x HDMI, 1 x VGA and 1 x Audio Port

Check Latest Prices On Amazon.com
Check Latest Prices On Walmart.com
The Acer SB270 is a great budget option. Colors are vibrant and the matte screen eliminates glare. The monitor is easy to assemble and features a VGA and HDMI port. As a budget-friendly option, the monitor can't be expected to produce the best quality picture, but if your needs are mainly to play your games on a decent quality screen than the Acer SB270 should do the trick. The monitor is light, thin, and has small bezels. For gaming, there are a lot of settings including night use, color adjustments, and general settings which can be saved into three different gaming profiles. Unfortuanently, the monitor can't be mounted on the wall, but for a budget-conscious monitor, it's to be expected. The monitor utilizes FreeSync AMD technology for a smooth graphical experience.
7.
OMEN X 27" 240 Hz 1ms Gaming Monitor, QHD 2560 x 1440p, AMD Radeon FreeSync 2 HDR, HDR, DCI P3, (6FN07AA)
TN Panel (Not Curved)
240Hz refresh rate with 1ms response time

AMD Radeon FreeSync 2 HDR

QHD RESOLUTION – The Quad HD (2560 x 1440)

3.7 Million Pixels


Vivid HDR Colors

Check Latest Prices On Amazon.com
Check Latest Prices On

HP.com
Next in the best gaming monitor for World of Warcraft is the Omen X 27″ gaming monitor. This HP gaming monitor has AMD Radeon FreeSync technology. It's a TN panel with 240 Hz so you can enjoy gameplay blur-free with no ghosting. Your gameplay experience will be buttery smooth with 1440p and a 240Hz refresh rate. The Omen X 27″ gaming monitor is a must-have for any gaming setup. Besides its crystal clear visuals, the monitor also features a sleek design. From the control panel, you can customize your monitor's settings to achieve the perfect results. Your games won't look grainy or experience any tearing.
Best Gaming Monitor For World Of Warcraft
The Difference Between G-SYNC And FreeSync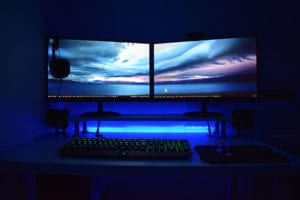 When searching for the best gaming monitor for World of Warcraft you'll want to consider G-Sync or FreeSync. These two options are similar in that they help to prevent tearing and stuttering on the screen.
G-Sync is created by NVIDIA
and monitors with it work best with an NVIDIA
graphics card. They're able to produce a wider dynamic range starting at 30Hz up until the displays maximum rate. FreeSync is created by AMD and uses the Adaptive-Sync technology built into the display port 1.2a specification. They don't offer a dynamic range as wide and usually offer between 40Hz – 144Hz.
One major difference is how they handle graphics cards that produce higher framerates than a monitor can handle. G-Sync frames are locked to the upper limit of the monitor, whereas FreeSync allows the graphic card to produce a higher frame rate. Using G-Sync or FreeSync is better than V-Sync which can cause tearing in games.
In order to utilize G-Sync or FreeSync, you'll need to have a DisplayPorts on your monitor and GPU. You'll also need DisplayPort cables to connect them. DisplayPort is similar to HDMI but it's more commonly used on PCs rather than televisions. FreeSync is easier to install if you're looking to upgrade because you don't need specific hardware to use it. It only requires compliance with the latest DisplayPort standards to function. G-Sync is more costly to install because you need dedicated hardware within the display for it to work.
How Important Is Monitor Size And Response Time?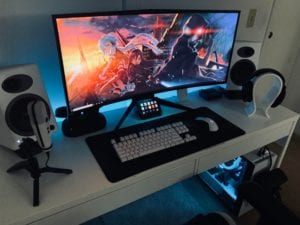 The best gaming monitor for World of Warcraft will probably be about 27 inches. This is the average monitor size that most gamers consider to be comfortable. Ultrawide monitors can be really nice if they're curved as it provides a panoramic view. Not all games support an ultrawide format. The aspect ratio of an ultrawide monitor is 21:9, but a widescreen format is 16:9.
Response time is how fast pixels change from black to white. This determines how clear and accurate a moving object is shown. If a monitor's response time is too high it will have more trouble accurately depicting fast-moving objects. High response time can result in motion blur. If you're prone to motion sickness than this may become a problem for you. TN panels offer the lowest response times at 1ms, but IPS panels offer the second-lowest at 4ms. The average gamer may not be able to tell a difference. For the best gaming experience, you want a response time lower than 3-4ms.
What About The Resolution And Refresh Rate?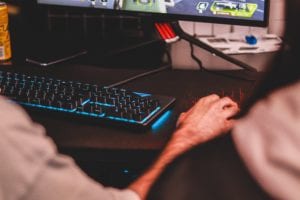 1080p is the most common resolution for a monitor. It's clear and affordable and you can't go wrong with the quality. If you're looking for something sharper that won't break the bank then you can consider a 1440p resolution. A 1440p resolution is called QUAD HD and grants you a good cost-effective alternative between the average 1080p resolution and the more expensive 2160p graphics. A 2160p resolution is actual 4k graphics and it's currently the highest that's available on the market. Not all monitors can produce a refresh rate higher than 60Hz though, so buying a monitor with 4k graphics isn't always worth the price.
The refresh rate means the number of times per second a display refreshes an image. It's measured in hertz (Hz). So the higher the number than the more times per second your monitor refreshes. This means more information reaches your eyes faster which results in smoother motion. Getting a monitor with a high refresh rate doesn't mean you'll get a smoother image. You still must factor in the frame rate of a program or game too. The frame rate is the number of video frames sent to the display per second. Refresh rates don't matter for movies but they do matter for games since they create the data sent from your screen to your graphics card. Video games can be played at 100 fps or above. You monitor should be at least 120Hz so that your games will be sharp and smooth.
LCD Or LED Screen: Which Is Better?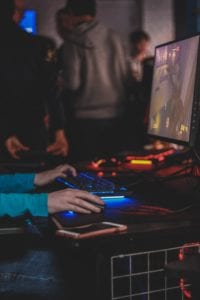 When choosing the best gaming monitor for World of Warcraft you can pick between LCD or LED screens. It's important to understand that all LED monitors are technically LCD monitors, but not all LCD monitors are LEDs. Both displays use liquid crystals to create images. Their differences emerge in their backlighting. LED monitors have better picture quality and will use light-emitting diodes as backlights, whereas an LCD monitor uses fluorescent backlights.
LCD stands for Liquid Crystal Displays and is used in smartwatches, laptops, and everyday objects. The reason LCD screens are widely used is that they are practical. LCD screens are thinner and don't use as much energy. They produce light by using a cold-cathode fluorescent lamp. The lamp has a series of tubes laid behind the screen that illuminates it from one light source.
LED means Light Emitting Diode. They're used in monitors and televisions. The backlighting is different from an LED. There are a series of light-emitting diodes behind the screen which illuminate it. So LED's have a higher number of light sources. This allows for a broader dimming range and lowers energy consumption. They also offer better contrast rates, but as a result, they're more expensive.
Which Monitor To Choose: LCD OR LED…
When it comes to choosing a gaming monitor most LCDs are actually LED's today. It's going to come down to personal preference on how you want your whites and blacks to appear on the screen. Some players are more sensitive to bright colors. Usually, you won't notice much of a difference and your choice will most likely come down to other factors like panel type, monitor size, refresh rate, etc.
If you enjoy Warcraftlover's content, then feel free to learn more about how to show your support.
Check out the best-gaming PCs for World of Warcraft, and the best gaming speakers for WoW. If you're looking for more portability then the best gaming laptop for WoW will help you out. Be sure to return to Warcraftlover for more reviews and awesome World of Warcraft news and content. Be sure to share this post on social media with your friends.
Thank you for hanging out at my Hearth.
Happy Hunting,
Spyells
Spyells is a published author and blogger. She's played World of Warcraft since the Wrath of the Lich King expansion. Geeking out over Warcraft, Disney, Kingdom Hearts, and Harry Potter is her favorite thing. She enjoys traveling and loves to cook. On most days you can find Spyells in Azeroth exploring it's many wonders and protecting its ancient lands.
Learn more About Spyells Here.