80 SHARES Share on Facebook Tweet Follow us Save Share Share Share Product: CORSAIR Scimitar Pro RGB Check Recent Reviews On: Amazon.com Size of Container: 4.3 Ounces My Rating: 7 out of 10 CORSAIR Scimitar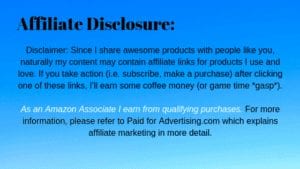 Product: CORSAIR Scimitar Pro RGB
Check Recent Reviews On: Amazon.com
Size of Container: 4.3 Ounces
My Rating: 7 out of 10
CORSAIR Scimitar Pro RGB, Product Overview
Every day in World of Warcraft looks the same. I do my world quests, level my heart of Azeroth, and then I run a raid. Any MMO gamer knows we have so many buttons we press, especially in a single raid or PvP encounter. Depending on your class you not only have to worry about your rotation, you also must heal your allies, and you may focus on crowd control. That's a lot of buttons to smash. The Corsair Scimitar Pro RGB makes that easier with its 12 programmable side buttons, and its key slider macro button control system. The textured side button keycaps provide enhanced grip and feel, which is needed in tough raids like Azshara's Eternal Palace. The mouse has 8 mm of key travel which ensures every button stays in place. It also features onboard storage with hardware micro feedback, and an 16,000 DPI optical sensor, which is an ultra-accurate and high-speed tracking engine.
Sure it's an Expensive Mouse, But the Benefits Are Unreal
I know all the technical jargon such as DPI can be confusing, so allow me to break it down for you. DPI means Dots Per Inch and it refers to the number of pixels your cursor can move. It's directly tied to the size of your screen, so if you play World of Warcraft on a large screen, then you need more DPI. You want to match the DPI to your user style, your screen size, and your play style. Your sensitivity style also plays an important role, this is the way in which you move your mouse. If you make low sweeping movements, then your DPI is about 400-800. But, if you have a medium sensitivity, which is a combination of arm and wrist hand, fall between low and high, then your DPI is about 400-1000. If you have a high sensitivity, which means you use your hand and wrist to make movements while not moving you whole arm, then your DPI is 1000+.
The Corsair Scimtar Pro RGB also features an optical sensor. So, what is an optical sensor you might ask? Good question! An optical sensor is an LED light used to illuminate a surface. A mouse can use ether an optical sensor or a laser one. Generally, you want to buy an optical mouse, because a laser one may read a surface too accurately which may cause jitter. This could be troublesome during slow movements. But optical mouse is more accurate, so this is why the Corsair Schimitar Pro RGB is a great option for your gaming needs.
It Doesn't Just Clicks Though, It's Everything
Besides the amazing specs though, this mouse is everything. You can customize the mouse with up to three different DPI settings. With the adjustable key slider system, you can move the 12 customizable keys wherever you want them. This is huge if you're into raiding or PvP. Just imagine how much your DPS output could increase by a split second. Plus, the 12 customizable side buttons are designed for consistent tactile feedback and will respond immediately to your barest whim. Don't forget you can customize your mouse, which means it can change colors with special lighting effects and match your setup.
Setup Has a Few Bumps Though…
The Corsair Scimitar Pro RGB uses the iCue Software like all Corsair products. Although the mouse is fine, the software can be tricky to use for some customers. There are complaints that the setup process is clunky and invasive. If you purchase this mouse, be sure to check out Youtube for help on how to setup the iCue software, as it appears to have a steep learning curve. But, once everything is working the way it should be, the lighting effects make everything worthwhile.
Pros:
#1: The Corsair Scimitar Pro RGB has an optical sensor which means its more accurate.
#2: It has 12 customizable buttons which is important for long World of Warcraft rotations and macros.
#3: The textured side buttons makes them easier to grip.
Cons:
#1: iCue Software is challenging for some customers to setup.
#2: The mouse isn't ambidextrous which could make it difficult for left-handed customers to use.
---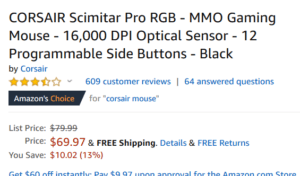 I am a believer in this mouse, and I know many gamers absolutely LOVE their Corsair Scimitar Pro RGB. One definite drawback is the iCue software because many customers have complained about needing to head over to Youtube to learn how to install it, but you do get a quality mouse so you get what you pay for here. For the sake of convenience (and a higher DPS score), having a mouse suited for gaming will benefit you in the long run, especially if you're planning to raid more often, or participate in more PvP matches. If this mouse sounds appealing to you, I highly recommend you get your own Corsair Scimitar Pro RGB. You'll probably want to grab the best gaming PC too. Best Buy has them in stock (but they're overpriced), and if you're an online shopper like myself, Amazon has the best deals on this mouse. I hope you enjoyed this review, and if you have questions about the Corsair Scimitar Pro RGB, or want to leave your own personal review, please leave a comment below.
Happy Hunting,
Spyells
Sources: PCbuildadvisor.com
Spyells is a published author and blogger. She's played World of Warcraft since the Wrath of the Lich King expansion. Geeking out over Warcraft, Disney, Kingdom Hearts, and Harry Potter is her favorite thing. She enjoys traveling and loves to cook. On most days you can find Spyells in Azeroth exploring it's many wonders and protecting its ancient lands.
Learn more About Spyells Here.