40 SHARES Share on Facebook Tweet Follow us Save Share Share Share Share Share Share Share Share Custom Custom Custom Custom Custom Yesterday, Limit won World of Warcraft race to world first in Ny'alotha. This
Yesterday, Limit won World of Warcraft race to world first in Ny'alotha. This marks the first win for a top North American guild in ten years. The last North American guild to win a world first race was Premonition in 2010. World firsts races involve the best guilds worldwide as they compete in Mythic level raids. Mythics are the hardest difficulty for high-level content in the game. Limit knocked European guild Method off its throne with this win. The ten-day race began on January 28. Problems ensued during the 12-boss raid when glitches were discovered during the race.
Several times Blizzard had to issue a hotfix for a glitch. At one point, N'Zoth the final boss of the raid was despawned for all players in the game no matter of difficulty. The glitch caused confusion and frustration for both the raiders and the viewers. Problems like these arise because Blizzard doesn't test the Mythic raids on the public test realms. The concern is that the competing guilds could work out a strategy ahead of time and gain an advantage over their competitors.
Limit Wins World Of Warcraft Race To World First Continued.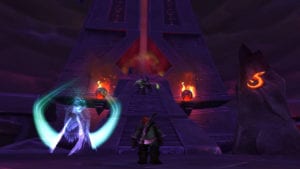 World-first races have become must-viewing for eSports fans. Guilds who compete in the races have created partnerships with big-name companies. These races bring in thousands of viewers worldwide. Limit is a part of the eSports organization Complexity. Their stream brought in about 50,000 viewers.
In the post-game interview below, Limit's raid leader Maximum discussed his decision to not play during the race. His guild tried a new strategy where he leads them from the sidelines. Ultimately, he felt this helped their team succeed. He wasn't sure if this would change the strategies of the other teams, but he felt this strategy was good for his team.
Congratulations to Limit for their win! Did you enjoy watching the race to world first? Please leave a comment below. Also, please share this post on social media with social media icons on the page. Be sure to check out the Will World of Warcraft have patch 8.3.5?, the ten reasons to start a gaming blog, and Will Using A VPN for World of Warcraft get you Banned?
Thank you for hanging out at my hearth.
Happy Hunting,
Spyells
Spyells is a published author and blogger. She's played World of Warcraft since the Wrath of the Lich King expansion. Geeking out over Warcraft, Disney, Kingdom Hearts, and Harry Potter is her favorite thing. She enjoys traveling and loves to cook. On most days you can find Spyells in Azeroth exploring it's many wonders and protecting its ancient lands.
Learn more About Spyells Here.