80 SHARES Share on Facebook Tweet Follow us Save Share Share Share World of Warcraft movie rumors has been swirling around lately. We got this covered first broke the rumor a week ago. The website
World of Warcraft movie rumors has been swirling around lately. We got this covered first broke the rumor a week ago. The website reports on entertainment news and gossip. Usually, they claim an "inside source" is giving them exclusive entertainment news. It's a good idea to take any rumor they post with a grain of salt.
The first Warcraft movie was a box office failure. Many fans were unhappy with the story and accuracy. Box office sales were bad in the United States and the movie only made $47.7 million, but the film did great overseas in China and made $439 million. The film's budget was $160 million which means it barely recuperated the cost of production and advertising.
On Rotten Tomatoes, the Warcraft movie received a 28 percent score from critics. Fans were more forgiving of the movie's shortcomings and it earned a 76 percent score from the audience.
Warcraft is an epic franchise. The movie failed to capture the complex gravity of the story in an easy to comprehend format. Too many characters were eating up the screen time, and it made it difficult for non-warcraft fans to understand the world. A second Warcraft movie could give Blizzard Entertainment and Legendary a chance to tell the story right.
Affiliate Disclosure
Since I share awesome products with people like you, naturally my content may contain affiliate links for products I use and love. If you take action (i.e. subscribe, make a purchase) after clicking one of these links, I'll earn some coffee money (or game time *gasp*).
As an Amazon Associate, I earn from qualifying purchases. For more information, please refer to Paid for Advertising.com which explains affiliate marketing in more detail.
World Of Warcraft Movie Rumors
What We Know So Far
Warcraft 2 Rumored to Be Happening at Legendary https://t.co/H2b7woubO9 Hmmmm…

— Chris Metzen (@ChrisMetzen) September 23, 2020
The rumors didn't appear to have any weight until Chris Metzen tweeted about them yesterday. What we've heard so far is that Legendary is making a second Warcraft movie. Chris Pratt is being considered for the main human role. Lord of the Rings movie director Peter Jackson is said to be directing the new film. Also, the movie will have a fresh start and won't follow the storyline of the first Warcraft movie.
A complete reboot of the story could help catapult the franchise. Maybe Blizzard Entertainment should consider making a Netflix show instead? Warcraft might work as a Netflix show created in the high-quality cinematics Blizzard uses within the game. Maybe a TV show would give Blizzard an opportunity to tell more stories, and to allow those stories to breathe.
What We Know Continued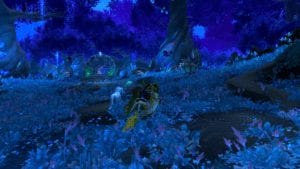 An example of a successful video game show on Netflix is The Witcher which is based on the novels. The Witcher was one of Netflix's top 10 shows in 2019 and was second only to Stranger Things, and The Witcher is being called the Game of Thrones of Netflix. Regardless of personal preference, Blizzard Entertainment and Legendary may still create another movie anyway.
A movie franchise does have appeal. The most successful film franchises in history have brought in millions of dollars. Great examples include the Marvel Cinematic Universe (MCU) which raked in $22.5 billion and the Harry Potter franchise which brought in about $1.002 billion. In terms of successful video game movie, Detective Pikachu was a success last year and brought in $433 million worldwide.
Check out the Shadowlands cinematic below and compare it to the first Warcraft film. Are you excited for a new Warcraft movie? Or would you rather see a Netflix show in a cinematic style? Please feel free to leave a comment below.
For Azeroth! Check out the Warcraft movie in 4K Ultra HD on Blu-ray and DVD on Amazon.com.

Before you go…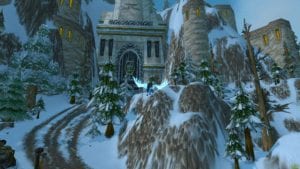 Don't forget to share this post on social media with the icons provided. Warcraftlover wouldn't exist without you. Learn more about how to support Warcraftlover.
The Shadowlands pre-patch is coming soon. Check out the Shadowlands Afterlives cinematics and be introduced to the four covenants.
Also, Shadows Rising the Shadowlands prequel novel sets up the story of the next expansion. Feel free to check out my review on Shadows Rising.
You are not prepared…for the holidays. Please feel free to check out the 23 must-have gifts for World of Warcraft fans.
If you're looking for suggestions to upgrade your computer hardware for Shadowlands, then please consider the best gaming PC for World of Warcraft, the best gaming monitor for World of Warcraft, and the best gaming laptop for World of Warcraft.
Thank you for hanging out at my hearth.
Happy Hunting,
Spyells
Spyells is a published author and blogger. She's played World of Warcraft since the Wrath of the Lich King expansion. Geeking out over Warcraft, Disney, Kingdom Hearts, and Harry Potter is her favorite thing. She enjoys traveling and loves to cook. On most days you can find Spyells in Azeroth exploring it's many wonders and protecting its ancient lands.
Learn more About Spyells Here.