40 SHARES Share on Facebook Tweet Follow us Save Share Share Share Share Share Share Share Share Custom Custom Custom Custom Custom Can you play World of Warcraft for free? World of Warcraft requires
Can you play World of Warcraft for free? World of Warcraft requires a subscription to play the game. The first 20 levels are free. The subscription is $15 a month and grants access to WoW Classic and World of Warcraft. So you get two games in one. Be sure to try out both games because you won't be disappointed.
The first 20 levels allow you to check out all the expansions except the Battle for Azeroth. So you can visit the frozen wastes of Northrend or journey through the lush and beautiful landscape of Pandaria. World of Warcraft is divided into two factions called the Horde and Alliance. Playing the game for the first 20 levels gives you the chance to try both factions and discover your allegiance.
But, there's got to be a way to play WoW for free, right? Well, if you're good at earning gold in the game then you can. With enough in-game gold, you can purchase a WoW token. Tokens are bought by other players and listed for sale on the in-game auction house. Players who sell tokens make a ton of gold. WoW tokens can range in price and cost as much as 170,000 gold. Each token grants you one month of game time.
Want to kill some time? Check out these quizzes on Warcraftlover.
Affiliate Disclosure:
Since I share awesome products with people like you, naturally my content may contain affiliate links for products I use and love. If you take action (i.e. subscribe, make a purchase) after clicking one of these links, I'll earn some coffee money (or game time *gasp*).
As an Amazon Associate, I earn from qualifying purchases. For more information, please refer to Paid for Advertising.com which explains affiliate marketing in more detail.
Can You Play World of Warcraft For Free? – It Depends
To begin playing World of Warcraft for free you'll want to check out the official website. The website has everything you need to know to get started. There's a page explaining races and a page explaining classes. In World of Warcraft, you choose a faction, race, and class to play. An example would be an Orc warrior. By choosing to play an Orc warrior you've joined the Horde. Another example would be a Human mage. If you chose a Human than you've joined the Alliance.
There are two kinds of combat in World of Warcraft. They are player vs. environment (PvE) and player vs. player (PvP). Player vs. environment is focused on solo content like questing, but there are group activities like dungeons. In dungeons, you're grouped with four other players as you try to defeat the enemies within the instance. Player vs. player is focused on dueling other players. So you can join the fight in a battleground, or turn on Warmode to fight other players in the game world. To experience even more PvP in the game world, you'll want to check out WoW Classic and play on a PvP server.
Can you play World of Warcraft for free? It depends on if you're doing the free trial or if you earn game tokens. But the official World of Warcraft website has an extremely useful new player's guide. The guide explains how to move your character. If you're new to PC gaming then you'll appreciate the easy to understand instructions. The guide also explains how the Auction Hosue works, how to obtain a mount, and what a guild is.
Visit BestBuy.com to Save $10-$200 On Select Gaming Desktops, Laptops And Monitors.
WoW Classic And World of Warcraft Are Two Different Games
A guild is like a virtual club. Joining a guild can provide you with help and perks. Guild members usually take new players under their wing and teach them the ropes. World of Warcraft has a new guild finder tool making your guild search easier. Guilds complete group content like dungeons and raids together.
If you try WoW Classic you won't find a guild finder tool. WoW Classic and World of Warcraft are different. World of Warcraft has modern-day conveniences to make your gameplay smoother. But, WoW Classic is the original version of World of Warcraft (Vanilla WoW). Old school WoW is 15 years old and plays at a much slower pace. They're basically two different games.
Professions are more important in WoW Classic. When you learn a profession you can sell the items you make on the auction house. For example, an alchemist makes potions that can heal you in battle. World of Warcraft has professions too and you can use them to make gold. Professions aren't a necessity like they were in WoW Classic. They're still a great asset to have if you'd like to make extra gold.
Shop Themed Party Supplies at Napkins.com 
So, If I Can't Play World of Warcraft For Free, Then What Games Can I Play For Free?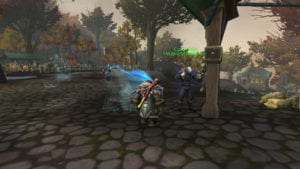 Can you play World of Warcraft for free? If you're participating in the free trial, or if you obtain a WoW token than you can play World of Warcraft for free.
As a new player to either World of Warcraft or WoW Classic, you'll want to check out these helpful articles: the most-exciting starter zones in World of Warcraft, the WoW Classic beginner's guide, how to do World of Warcraft's 15th anniversary as a new player, and how to make gold in WoW Classic.
As a new player, you'll want to focus on the basics of World of Warcraft. You won't be raiding or doing mythics right away. Remember to take it slow and get a feel for the gameplay. If you're new to PC gaming using a mouse may feel strange to you at first. There are ways to play World of Warcraft without a mouse. But you'll want to learn how to play the game properly first. World of Warcraft can have a steep learning curve for new players, but if you keep at it you'll be raiding in no time. The next expansion is called Shadowlands, and it will be a new player-friendly. So you'll be starting in a new zone and be leveling quicker as you journey to level 60.
Also, feel free to check out these free quizzes. Warcraftlover is making an effort to be interactive and engaging. So, don't forget to leave a comment below with your thoughts. Please, share this article and other content from Warcraftlover with your friends. If you enjoy Warcraftlover's content, then feel free to learn more about how to show your support.
Thank you for hanging out at my Hearth.
Happy Hunting,
Spyells
Spyells is a published author and blogger. She's played World of Warcraft since the Wrath of the Lich King expansion. Geeking out over Warcraft, Disney, Kingdom Hearts, and Harry Potter is her favorite thing. She enjoys traveling and loves to cook. On most days you can find Spyells in Azeroth exploring it's many wonders and protecting its ancient lands.
Learn more About Spyells Here.