40 SHARES Share on Facebook Tweet Follow us Save Share Share Share Share Share Share Share Share Custom Custom Custom Custom Custom Small World of Warcraft Review Product: Small World Of Warcraft Check Prices: Blizzard
Small World of Warcraft Review
Product: Small World Of Warcraft
Check Prices: Blizzard Gear Store
Check Prices: Amazon.com
My Rating: 4 out of 10
Affiliate Disclosure
Since I share awesome products with people like you, naturally my content may contain affiliate links for products I use and love. If you take action (i.e. subscribe, make a purchase) after clicking one of these links, I'll earn some coffee money (or game time *gasp*).
As an Amazon Associate I earn from qualifying purchases. For more information, please refer to Paid for Advertising.com which explains affiliate marketing in more detail.
Small World Of Warcraft, Product Overview

Small World of Warcraft was created as a collaboration between Blizzard Entertainment and Days of Wonder. During the game, players control legendary races and artifacts. You can choose special powers and mix them with races, such as Portal Mage Pandarens or Herbalist Goblins
Your goal is to gain the upper hand by leading your chosen race. Small World of Warcraft can have 2 – 5 players. During this Small World of Warcraft review we had three players. Conquering the dangerous lands of Azeroth is no easy task.
Players will occupy legendary terrains and seek control of powerful artifacts. However, all empires must eventually fall, so players will need to be ready to put an overextended race into a state of "decline" and lead a new one to rule Azeroth.
Unboxing Small World Of Warcraft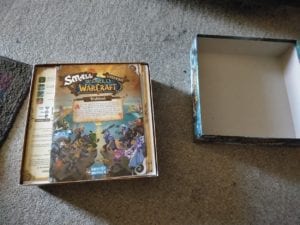 Packaging for the Small World of Warcraft board game was high quality. Opening the box revealed the instruction manual. Large cards for each player also contained rules for the game.
There were also six double sided board pieces. Each piece represented an island. Inside of the box was one die, and one crown. Sheets of game pieces filled the box. These needed to be punched out and placed within the black box provided with the game.
Small World of Warcraft requires set up to play the game. Honestly, this was my least favorite part of the experience. Set up took my brothers and I over an hour. We made sure to take a quick break before we started playing the game.
Small World Of Warcraft Review
Game Play And Set Up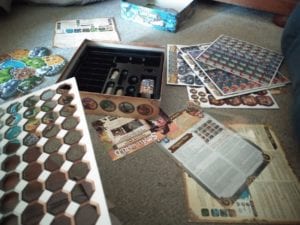 Setting up Small World of Warcraft took time. Once we had all of the game pieces situated within the box then we focused on the instruction manual. None of us had played a Small World game before. So we were excited to dive in and conquer new lands.
The instruction manual wasn't easy to decipher. Small World of Warcraft can be played in about 40 – 60 minutes, but we were stuck on the instructions for a while.
Obviously the game takes a lot of strategic game play to be victorious. The board game is based off of WoW and we know that our favorite MMO can have a steep learning curve for newbies.
But, I was hoping that a board game would be easier to pick up. Usually when I play a board game with family or friends it's because I'm hanging out.
Also, My brothers and I had considered making food from the World of Warcraft cookbook, but I'm glad we didn't because the board game took up so much of our time. We're hoping to have a World of Warcraft themed hang out day soon.
Victorious Conquests And Crushing Defeats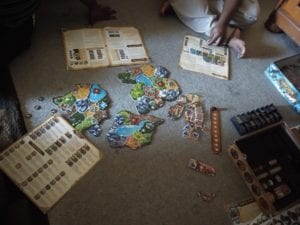 Pros:
Small World fans will love the game
Small World of Warcraft is WoW themed
The game takes strategy and will test your skill
Cons:
Set up of the game took over an hour
Instructions need to be clearer
The game is creative, but the details are overwhelming
During our Small World of Warcraft review, My brothers and I played for about an hour. Most of the time was spent reading the instructions. We each pulled a race banner and profession from the stack.
I began with Portal Mage Blood Elfs, and set my sights on the largest island.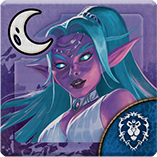 My blood elven soldiers entered the continent from the anchor point, and I worked my way to the first magic station. I placed a wisp wall to claim the area.
After I made my move, one of my brothers pulled his cards and he got Naga. So he worked on conquering the waterways. Our other brother pulled the card for the Orcs. We each took several more turns, but we realized that the game was going no where. Sadly, we didn't finish our game because of frustration.
We were confused on several key things:
How do turns work? (the directions didn't make it clear on when our turns ended)
How many troops could we have on the board at a time?
What causes a race to go into decline?
Is The Game Worth It?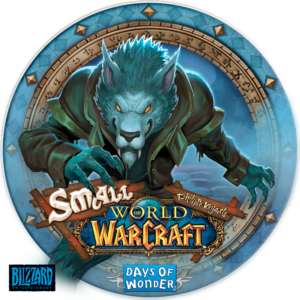 This Small World of Warcraft review was my first time trying a Small World game. I'm used to playing Candyland and Chutes and Ladders. So I'll admit some of our confusion came from lack of experience with the game series. But, I'm disappointed that the directions weren't clearer.
Each race had it's own rules. That's great in hindsight, but for a bunch of newbies we were overwhelmed. Also, there were three of us playing. So per the instruction manuals suggestions we should've had one Alliance, one Horde, and one Neutral player. But, when we chose the race banners that's not what we ended up with.
Small World of Warcraft is worth it for those who enjoy board games. Especially if you're a fan of the Small World brand. If you enjoy strategy games and love to play them with friends then Small World of Warcraft will be fun for you.
Also, Small World of Warcraft is a fantastic gift for any WoW fan. The artwork on the box alone got me hyped to try it. So if you're looking for a Warcraft gift idea then consider the game. Small World of Warcraft wasn't for me, but don't count the game out especially because every World of Warcraft fan likes different things.
Small World of Warcraft will be released on September 4, 2020 on the Blizzard Gear Store. The game will be available on Amazon by September 25, 2020. Both retailers are currently accepting pre-orders for the board game.
Please feel free to check out the Small World of Warcraft game trailer below.
Before You Go…
Did you enjoy this Small World of Warcraft review? If you check out the game, please leave a comment below with your impressions.
Don't forget to use the social media icons to share this post online. Also, if you enjoy Warcraftlover's content, feel free to learn more about how to support Warcraftlover.
The first World of Warcraft Shadowlands Afterlives animation premiered at Gamescom 2020 last week. Check out Afterlives: Bastion.
Blizzard Entertainment updated World of Warcraft's system requirements. Is your gaming PC ready to enter the Shadowlands?
Thank you for hanging out at my Hearth.
Happy Hunting,
Spyells
I received this product for free in exchange for an honest and unbiased review.
Spyells is a published author and blogger. She's played World of Warcraft since the Wrath of the Lich King expansion. Geeking out over Warcraft, Disney, Kingdom Hearts, and Harry Potter is her favorite thing. She enjoys traveling and loves to cook. On most days you can find Spyells in Azeroth exploring it's many wonders and protecting its ancient lands.
Learn more About Spyells Here.