40 SHARES Share on Facebook Tweet Follow us Save Share Share Share Share Share Share Share Share Custom Custom Custom Custom Custom World of Warcraft sound artists brings life to Azeroth. It's something we don't
World of Warcraft sound artists brings life to Azeroth. It's something we don't think about, but it's crucial to creating the magical experience we take for granted. Alex Humphreys from the BBC visited Blizzard Entertainment in California. On her podcast segment "In The Studio", she interviewed several employees who work for World of Warcraft's sound department. They gave us an in-depth look at how World of Warcraft sound effects are crafted for the game.
Lead Narrative Designer Steve Danuser said that the next patch is about N'Zoth's influence on the world. So, Senior Producer Jay Maguire said that when the World of Warcraft team looks at new content they always begin with the environment and how they can immerse you in it. Teams make maps of the city and color code it so that they know how intense it will be. The green parts are easy for solo players, but there are yellows, oranges, and deep red, which is the more intense part of the city. They want the players to really experience N'Zoth's influence on a zone.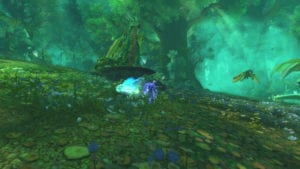 Sound is one of the last things done in development. The sound team is placed on a project after the artists and engineers do their work. The team spends time thinking about how to describe the content. They want to pin it down so that they know which direction to go. Patch 8.3 is where we deal with N'Zoth once and for all. Maguire explained the effect they wanted the players to experience when facing the Old God.
"Madness, uncertainty, and doubt. It's like planting seeds in a garden. You kind of know what's going to happen but you don't know what's going to show up," Maguire said.
World of Warcraft Sound Artists Interviewed
What does a trash can, a cello bow and a bucket of slime have in common? Take a listen to my gaming episode of 'In The Studio', where I chat to the sound team @Blizzard_Ent Produced by @GlynTansley 👉 https://t.co/2EmDaGFUZm 🎮 #wow #warcraft #battleforazeroth #videogames pic.twitter.com/WCWBimIWTy

— Alex Humphreys (@allyhumphreys) October 15, 2019
Humphreys was allowed to visit the sound room. The room is where all the sound effects for the game are made. They have buckets of swords, musical instruments, poles, tubes, guns, and shoes. Basically, there are all kinds of things to make noise. The room is soundproof. Different swords make different types of sounds. They use a garden weasel to create some sound effects. A garden weasel is used to till the soil. Garden weasels have spikes and it's used for Druid solar and lunar magic.
"I try to make the game sound as real as possible," David Rogen said, Head of the Sound Department. "Azeroth is a real place for a lot of people, it's very important to them. If they're fighting a monster I don't want them to feel like they're at a computer pressing buttons. I want them feeling like they're fighting a monster."
Blizzard wants the player to feel powerful. Sound envelops you and enhances your experience. They also want players to feel important when they touch buttons. We'll hear sounds if we do something wrong, and if we do something right we'll hear a positive sound. World of Warcraft has over 100,000 different sounds.
The next patch is focused on N'Zoth. Three words to describe it are Madness, Uncertainty, and Doubt. Those are very metaphorical words. Unlike previous expansions, it's very horror based, and sound and horror go hand in hand. Many of the best sounding movies are horror movies.
Interview Continued
Aaron Craft explains how the whole process works.
"They go to a particular designer, and they pair them up with a game designer, artist, and engineer. The colloaberation happens and all the pieces of the puzzle work together," Craft said.
Craft said when artists or writers create a new character they draw them and then they speak to the programmers. Then the sound team tries to figure out what the character sounds like. He said you've got to sort out if an idea is going to work or not quickly. If the writers or artists invent a new creature, they may only have sixteen or twenty-four hours, but the time flexes.
During the World of Warcraft, sound artists interviewed we learned that creativity is needed. Craft came up with using a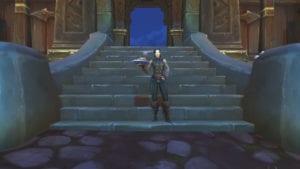 cello. He wanted to replicate the sound of vocal cords. He found a way to shape the top of a trash can like a mouth, almost like the trash can could talk. Craft said there were many layers to them. The more he manipulated it more dissonance was added. It's not a comfortable sound, and it sounded big and scary. You're going to hear this crazy deep and bellowing sound, which puts you ill at ease.
World of Warcraft Sound Artists Interviewed Continued
Maguire explained the importance of game developers playtesting the game. It's crucial for them to play the game together as a team before they release the content to the public.
"It's very important in game development that you play test your game," Maguire said. "You need to understand how all those pieces come together. It's reallyd ifficult to see outside the blinders of what you do on a day to day basis. And so the later you get into a development cycle all the pieces come together and you can see how the game plays as a whole."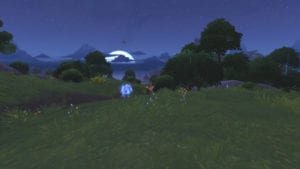 Maguire said the team plays together when they do the playtest cycle. They get bucket loads of feedback. There's an email list where people send feedback, and it's a constant stream of information. They try to collect feedback before they ship it to the public. WoW is a large game so they have to catch a lot of stuff.
"We're handling the sound differently than other updates," Maguire said. "They want to make the experience more dynamic. You need to interact and push back agaisnt N'Zoth's influence. The intensity rises and the volume goes up as you get closer. Whispers become more aggresive and the veil is off."
They want us to feel like we're in a different world. Humphries asked Maguire if he's happy with the sound department's recent work.
"I'm a very happy producer," Maguire said. "This is some of the best work out sound department has put into the game. Every person brings their own unique voice to the table. It all meshes together for this awesome update we bring each time."
Before you go…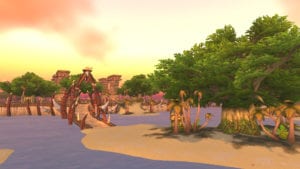 What did you think of the World of Warcraft sound artists interviewed? Please leave a comment below. Also if you enjoyed this article, be sure to share it on social media.
Also, feel free to check out the 7 most- exciting starter zones in WoW, the best ways to gain reputation in WoW, How to make gold in WoW Classic, and the World of Warcraft Patch 8.2.5 Content Notes. The holidays are coming up fast, so feel free to visit the 23 must-have gifts for World of Warcraft fans. Want a more general list? Then check out the 22 must-have gifts for Video Gamers. WoW Classic has been a hit, so don't miss the best addons for WoW Classic. BlizzCon is next month and we've got many juicy things to discuss. Check out the World of Warcraft Story so far, and the possible World of Warcraft Expansion leaks.
Thanks for hanging out at my Hearth.
Happy Hunting,
Spyells
Spyells is a published author and blogger. She's played World of Warcraft since the Wrath of the Lich King expansion. Geeking out over Warcraft, Disney, Kingdom Hearts, and Harry Potter is her favorite thing. She enjoys traveling and loves to cook. On most days you can find Spyells in Azeroth exploring it's many wonders and protecting its ancient lands.
Learn more About Spyells Here.